A whole new website
Since the release of version 2.0 of the website in February 2009, we had not implemented such a comprehensive set of improvements. For this new version, we analyzed all the pages according to the feedback received during all this time and also according to the need of an update on the IT infrastructure.
The new ricardo-vargas.com brings several new features, with which we hope to make the user experience much better for current and future users that are interested in project management and related content.
Read more about the new features.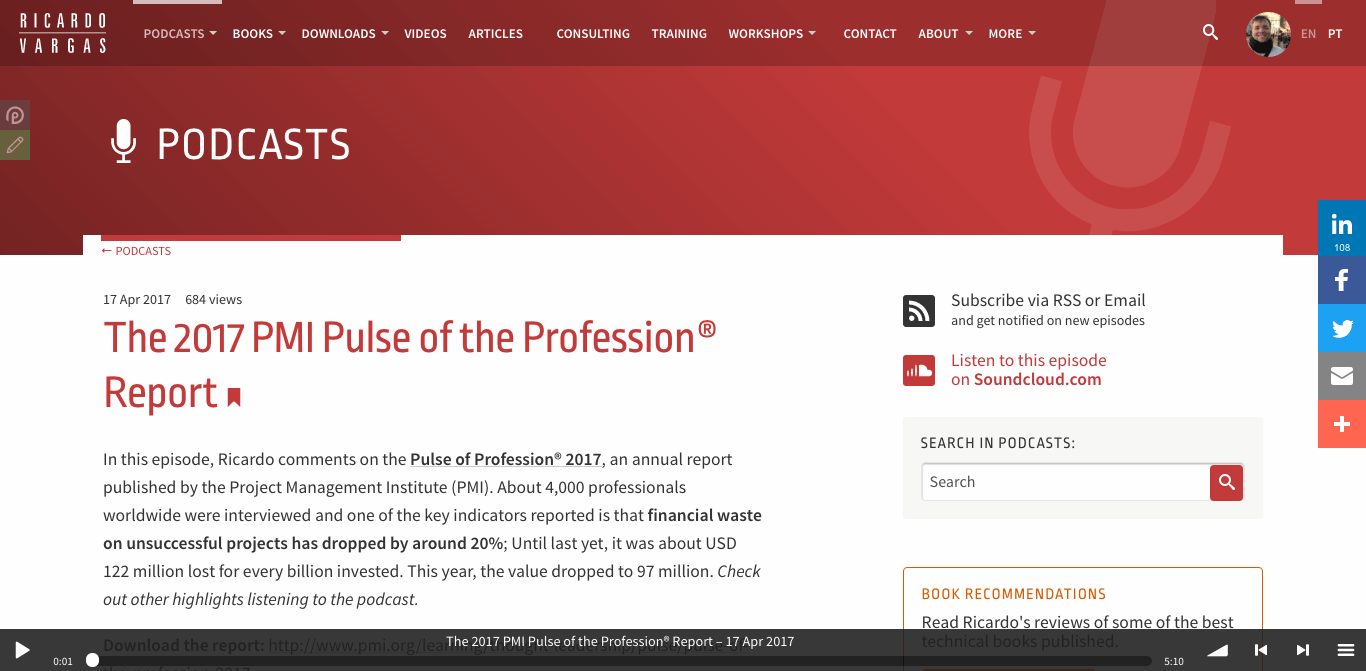 While you hear a new episode, you can continue to visit other pages as the audio will continue to play without interruptions! After clicking the play button on an episode page, the player will appear in the footer of the site and will remain there, unless you reload the page or close the browser.
Discover the most popular episodes of each year
The navigation of the more than 400 episodes, published since in 2007, has been optimized. Now it is possible, for example, to know which were the most popular episodes of 2014.
| In this episode, Ricardo comments on the Pulse of Profession® 2017, an annual report published by the Project Management Institute (PMI). About 4,000 professionals worldwide were interviewed and one of the key indicators reported is that financial waste on unsuccessful projects has dropped by around 20%; Until last yet, it was about USD 122 million lost for every billion invested. This year, the value dropped to 97 million. Check out other highlights listening to the podcast. | |
| --- | --- |
140条推文 让你项目管理快速入门

Chinese edition of the book Planning in 140 Tweets, a book for all professionals who want to learn the key concepts that involve planning activities and project management in a simple, fast and direct way.